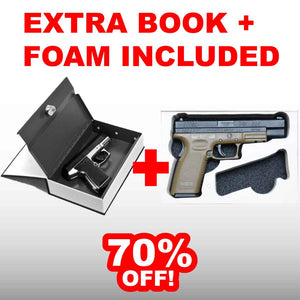 Let's face it – sometimes, you need someone in your corner. When you do, we'll be there.

"From cash, documents, medications, to small firearms, This is the best thing I've found to keep strangers away from the things they shouldn't be touching."
Protect yourself, loved ones, and MOST importantly your RIGHTS with a Star and Bar StealthBook.
ALSO AS OF AUGUST 25th 2021, we are including a FREE GIFT with every StealthBook ordered through AUGUST.  Trust us, you will love this gift, and it is a necessity to every TRUE, INFORMED American.
The Star and Bar Stealthbook Details:
Fits most small to mid size pistols.  Dimensions of inside of vault are 9x5.7x1.9" Inches.  For an example; a standard Glock 19 with the magazine/clip installed will fit!

Hides in plain sight. Can be used on a bookshelf, in an office, on a coffee table, etc.
Looks like a real book.
Combination lock provides secure yet quick access, no fumbling looking for keys.
Allows for concealment of protection or valuables in the last place someone would look.
Is easy to transport or move around. Then conceals itself in any environment, unlike a traditional safe.
We at Star and Bar have one mission goal:
Protect the rights of Americans written in the constitution over 230 years ago

Your right to bear arms
Your right to freedom
Your right to protect yourself and your loved ones
Your right of privacy
Your right of choice
Your right to be a true American

We believe in your rights

Join us in our fight for your rights

The Star and Bar StealthBook is so popular...

The results from the safe were so impactful that we sold out our first run within 11 days.

Our second run sold out in 8 days.

And every time we'd get more in stock we run out of stock almost immediately.

Several Customers are purchasing 2-3 at a time!

Even now... we are watching our inventory like a hawk.

It really doesn't seem to take much to send us back into a backorder and believe it when we say the last thing we want to do is turn folks away like we have had to do before.
This Surprised us the most

Getting our hands on more StealthBooks isn't that easy.
Shipping time from our warehouse to you is only 1-6 Days.

But, factories around the USA have been experiencing a shortage in metal making it nearly impossible to make the amount of safes that we need.

So if we run out of inventory, it will take us a few months just to get the product back in stock.

Good news is that if you are reading this letter right now, then we have at least 10 in stock.

If you missed out before, here is your chance.
Testimonials 

"I wouldn't hesitate to always be prepared. The events that have occurred this year has shown us just how easily life can change in an instant. I keep this bad boy in my office at work. What I keep inside it is none of your business. Great safe and an even better company."
-Darin
"Your customer assistance is fabulous the product is amazing it is the best purchase I have ever made I am so pleased with this safe. Communication, delivery, set up emails, you guys do an outstanding job thank you so much."
-Joseph
"I use this safe at home to keep my extra medications in.  I get 3 months at a time from my pharmacy, and have had the whole lot stolen out of my bathroom before.  I am not sure who did it.  Now I have an inexpensive place to keep my meds safe."
-Susan
Fast Shipping
All products are shipped from our USA warehouse and will arrive at your destination within 2-5 business days.
Money Back Guarantee
If you are not satisfied within 30 days of your purchase, we offer a stress free refund. No questions asked.